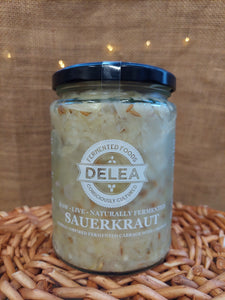 Classic Sauerkraut
This fermented cabbage dish is most commonly associated with German /Polish cuisine.  'Sauerkraut' is a German word meaning sour herb/vegetable.
Our version of this classic is slightly sour with aromatic notes of caraway.
We leave our mix of cabbage and caraway to naturally ferment with Cornish Sea Salt in traditional ceramic crock pots for a minimum of three weeks. This allows for optimum flavour development and ensures the cabbage still retains it's wonderful texture and crunch.

This kraut works well with salted meats and makes a lovely addition to salads, soups andstews.
Ingredients: White Cabbage, Caraway Seeds, Cornish Sea Salt.
270g or 500g
All our ferments are unpasteurised, allowing beneficial bacteria to grow & thrive.
Made in an environment that handles gluten, dairy & nuts.
As our food is made in a small kitchen where equipment is shared, food items may not be suitable for those with severe allergies.
NOTE ON POSTAL ORDERS: All orders are dispatched weekly on a Monday. Orders placed after Saturday will not be dispatched until the following week.