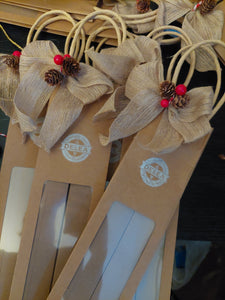 This bespoke hand decorated paper gift bag perfectly displays 2 vibrant fermented food jars of your choosing ready for Christmas
Fits
2 x 500g  
Simply add from the drop down box your ferments of choice.
Ferments need to be stored in the fridge as they are live and unpasteurised.

NOTE: We recommend storing the ferments out of the gift bag until you are ready to gift them. This is to avoid degradation of the decorations and the bag. (The bag is paper and the decorations are real so they might spoil if kept in the fridge with the ferments).

Each gift bag is decorated with different garlands so may not be exactly as photo e.g. there may be variations of rosemary sprigs, pine cones, acorns and orange slices